We Offer A Large Selection of Quality And Aesthetically-Pleasing Gas Fireplaces, Stoves, Inserts And Logs!
If you are looking for gas fireplace or stove, you can always shop our large showroom at our sister hearth store, Tri County Hearth and Patio Center. There you will find a variety of gas fireplaces, gas stoves, gas inserts, and gas logs, just like the gas fireplace you see here. Visit our showroom to find the right gas appliance for you.
Gas-burning appliances offer beauty, warmth, and efficiency, and are becoming more and more popular every day. In the past, a gas fire simply couldn't give off the same beautiful flames as a wood fire, but advances in technology and log design have changed that. Most logs today are now created using real wood casts and are designed to give off the illusion of real wood logs. This makes them just as visually appealing and enchanting as wood fires.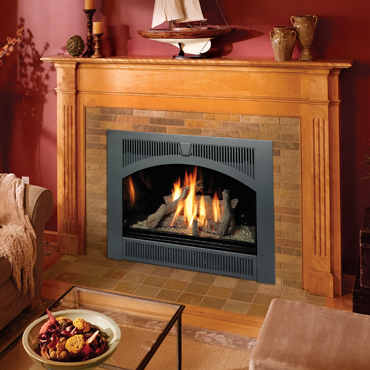 With a gas fire, there's no fire-starting hassle – the fire can be started and temperature-controlled with a button! Gas is also an incredibly clean-burning fuel and completely eradicates smoke and pollution problems. With a gas fireplace, stove or insert, there's no hauling of wood, no emptying of ashes and no wood storage needed.
Not Sure What The Difference Is Between A Fireplace, A Stove And An Insert?
Sometimes it can be difficult to distinguish between fireplaces, stoves and inserts – here's a little information to help you decide which appliance you are in the market for.
When we think of fireplaces, we typically think of large, open, masonry constructions. Fireplaces are open, but they don't have to be constructed of masonry – they can also be prefabricated. One important thing to remember is that fireplaces require a functional and compatible chimney system.
Inserts are closed appliances that are designed to be inserted into the existing fireplace of the home. They are perfect appliances for increasing the efficiency of your existing fireplace and can also be used when a fuel change is desired. There is not typically any masonry or construction involved in the installation process. Some inserts require a working chimney system, while others do not. However, it is important that you have your appliance and chimney checked for compatibility.
Stoves are basically free-standing inserts and do not rely on a masonry chimney system. They can be placed in just about any room, as long as there is proper clearance from combustibles. You should also be sure to invest in floor and wall protection to ensure the safety of your appliance and your home. Most people opt for stoves because of their heat output and placement options.
Some Of The Quality Gas Brands You'll Find In Our 20,000 Square Foot Showroom
Whatever your gas fireplace, insert, stove or log needs, we can answer your questions and help you sort through the options. Give us a call today or visit our showroom to talk with one of our knowledgeable staff members.
Some folks think it's hard to beat the appeal of a wood-burning fireplace or appliance. If you're one of them, consult with our appliance sales and installations team to discuss your choices.