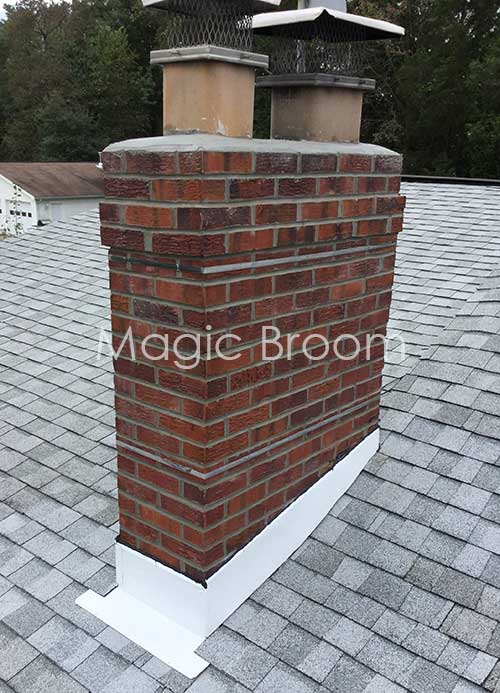 Masonry refers to on-site construction and has traditionally consisted of brick or stone and a mortar mix. Although mortar mix and bricks have changed over the years, masonry has always been valued for its sturdiness, durability and customizability. When well-maintained, masonry structures can last for centuries and centuries. But, if left in the hands of Mother Nature and Father Time, the lifespan of masonry can be cut significantly short.
That's why regular maintenance plays such a key role in protecting your home investment and ensuring your family's safety and shelter. At Magic Broom, our technicians have an understanding of and a passion for masonry design and preservation. We undergo extensive training, certification, and continued education courses to guarantee our clients the best and most advanced techniques, products, and services. With a Magic Broom technician, you never have to worry about how the work will turn out – we have the patience, skills, and the dedication to provide you with the best work imaginable.
Whatever your masonry needs, we're here to help. We have extensive experience with just about every type of installation, repair, or rebuild, and we guarantee your satisfaction!
Our Masonry-Related Specialties Include
Tuck Pointing – Although mortar is extremely durable, weather damage and time can cause mortar to break apart and compromise the structural integrity of the chimney and fireplace. When mortar is deteriorating, Magic Broom can replace it with new mortar – this process is called tuck pointing. At Magic Broom, we always mix to match up with the look of your existing mortar and we never produce sloppy work.
Chimney Crown Rebuilding – A chimney crown is a cover of concrete or mortar located at the top of the chimney. It basically provides a water-tight and air-tight seal, and is designed to encourage rainwater to move away from the chimney structure. If a chimney crown is deteriorating or was improperly installed, the chimney will most likely suffer from water damage. The crown of the chimney is one of its only defenses against water – don't leave its condition to luck!
Smoke Chamber Parge Coating – The smoke chamber is the area of the chimney system located directly above the damper and below the flue. The main purpose of the smoke chamber is to funnel smoke up into the chimney flue and out of the home. Because it is such an important part of the chimney's function, it is vital that it be parged smooth as needed. Parging involves applying a specialized product and then smoothing it over the smoke chamber so that it is conducive to air flow. If a smoke chamber has holes, gaps, creosote problems, moisture problems, or is made of improper thickness, it presents a serious fire hazard.
Chimney Rebuilding – Sometimes water damage or improper installation requires a complete chimney rebuild. At Magic Broom, we have qualified, skilled masons with hundreds of chimney rebuilds on their resumes.
Firebox Rebuilds – The firebox is the part of the fireplace that actually hosts the fire. Over time, the condition of the firebox can seriously decline as a result of heat and/or water damage. If you are noticing decay within your firebox, or if you know that it was constructed of anything other than firebrick, you may need to seriously consider a firebox rebuild.
You definitely want the pros in your corner to deal with a leaky chimney. This professional fireplace and chimney service is all in a day's work for the team at Magic Broom.