We Offer A Variety Of Wood-Burning Fireplaces, Stoves And Inserts
At Magic Broom, we are pleased to offer our customers some of the top names in wood-burning fireplaces, stoves and inserts in our showroom at our retail location, Tri County Hearth and Patio Center in Waldorf, MD. Our 20,000 square foot showroom is packed with high-quality, wood-burning fireplaces, stoves and inserts from brands you can trust, including: Jotul, Blaze King, Lopi, Bosca, Englander, Osburn, Majestic, Monessen, and Avalon. We know how difficult it can be to figure out which brands and appliances are trustworthy, durable and safe and our staff can help find just the perfect appliance for you. Below we have narrowed down the search for you to help in your decision!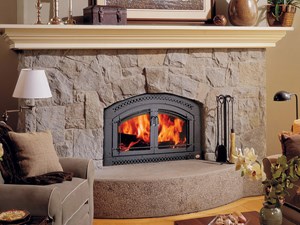 Fireplace Xtrodinair 44 Elite Wood Burning Fireplace
If you aren't yet familiar with the brands we mentioned, here's a little information about each:
Fireplace Extrodinair make premium quality fireplaces and inserts and custom-crafted for design and are incredibly energy efficient.
Jotul inserts and stoves are manufactured in Norway and come in a variety of sizes. They boast the largest selection of cast iron wood stoves out there.
Lopi inserts and stoves are built in the U.S.A. and are known for their energy efficiency and design innovation.
Osburn is a family-owned, Canadian brand that offers a large selection of inserts, fireplaces and stoves. If options are what you're looking for – they've got them.
Avalon inserts and stoves come in a wide variety of sizes and styles and offer excellent heat output and retention.
Hearthstone has some of the best reputation in the business and has been making excellent stoves for over 35 years and are manufactured to the highest standards.
Not Sure Whether You Want A Fireplace, Insert Or Stove?
Knowing the difference between a fireplace, an insert and a stove can sometimes be difficult. For the most part, fireplaces are open-hearths, and can be constructed of masonry or prefabricated materials. Fireplaces require a working chimney.
Inserts are closed appliances that are designed to take the place of your existing fireplace. Many homeowners have an insert installed into their existing fireplace for added efficiency or safety reasons. When a fireplace is drafty or damaged, or if the homeowner wishes to change fuel-types or aesthetic styles, an insert can be a quick and easy fix. Depending on fuel-type, you may need to change flue types or sizes, but other than that, the insert should work well with the existing chimney.
A stove is basically a free-standing insert. It is a closed heat source that functions independently of a masonry chimney. With a stove, you have added placement options and can warm any room in the house as long as you have proper floor and wall protection and clearance.
Still not sure? Don't worry! Our knowledgeable and helpful staff will be happy to discuss the differences, benefits and maintenance for each. We can also help you decide whether your family would benefit most from a wood, gas or pellet appliance. You've got questions and we've got answers. Whether you're looking to install a fireplace, insert or stove, we have a wide selection of styles and sizes to fit with your needs. Call us today at 301-843-1491, or visit our showroom and staff today!
Pellet stoves or inserts may be the option that is better for your situation and requirements. Call on the experienced team at Magic Broom to discuss all the possibilities for your particular appliance and installation needs.