Chimney Services » Services » Chimney and Appliance Cleaning » Pellet Stove Maintenance & Repair
Cleaning & Servicing Pellet Stoves
Pellet fuel is composed of wood compost and is enjoyed for its heat output and renewability. Because it is basically made of wood waste, prices are much more consistent and it can be bought in varying amounts. Only need a little? Only buy a little! As a fuel, it is also much easier to store than wood because pellets are much smaller.
Pellet stoves are popular for several reasons. One reason is that they offer the look, heat, and sounds of a real wood fire, without the emissions problems. Today's pellet stoves are designed to burn clean and produce little to no smoke which means you can enjoy your fire without cough or concern.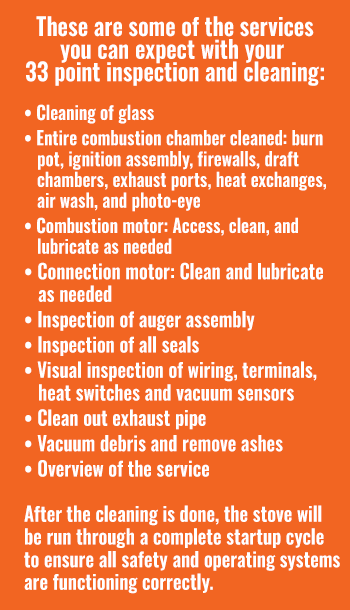 Maintaining Your Stove
Although pellet stoves produce little to no smoke and many come with self-cleaning options, annual maintenance is still required to keep them working safely and efficiently. The best time to schedule your annual stove maintenance is after burning 1-2 tons of fuel or at the end of a burn season. Most of the service and repair calls that we receive are as a result of failure to schedule full service cleaning. And since a full cleaning may be needed in order to properly diagnose the problem, neglect can end up costing more than maintenance.
Some of the most common complaints we hear about are:
Performance and Feeding Issues
Glass Stains
Appliance Odor
Inefficiency
Burn Pot Overflow
Tips For Happy Burning
We want you to get as much enjoyment from your stove as you can, which is why we've compiled this short list of tips for happy burning.
 Read your owner's manual.
Buy the pellets that work best for you. Try 4-5 bags of different brands of fuel to find which have the best results with your stove.
Do not modify your stove without consulting a professional technician.
On your last burn of the season, run your stove until it is out of pellets. This will ensure moisture won't bind up in the auger shaft.
Don't be afraid to adjust your air shutter.
Many service calls can be avoided by getting familiar with your air shutter and annual maintenance.
Having Trouble With Your Pellet Stove? We Can Help
If you are having problems with your stove, we can dispatch a technician to diagnose and repair your unit. We have a complete understanding of pellet stove systems and are masters at cleaning, troubleshooting, and servicing pellet stoves. If for some reason we are unfamiliar with your particular stove or unable to establish a baseline for problems, we will conduct a full-service cleaning before troubleshooting or replacing parts. This will allow us to get familiar with the appliance and avoid any unnecessary repairs. When calling to schedule, please provide your stove's make, model, and serial number to help ensure the most efficient service possible. Some pellet stove models come with diagnostic sensors. If your stove is equipped with these sensors, please be sure to tell our dispatcher what is flashing on the screen.
Should your stove need replacement parts, we typically have them in our trucks or warehouse. However, some special order parts may take as many as 8 weeks to get ahold of during the fall and winter months, so it's best to take care of repairs before you plan on using your appliance. By providing us with your stove's make, model, and serial number when you schedule your repair, we can ensure that we have that part in stock before your service appointment, saving you time and costly return trip fees. When possible, we install original manufacturer's parts and are happy to process warranty claims for units purchased from our company, so you don't have to deal with the paperwork and headache typically associated with these claims.
At Magic Broom, we have extensive experience servicing the following top-brand pellet stoves:
Lopi
Avalon
Breckwell
Whitfield
Austroflamm
Bosca
Englander & Summers Heat
Kozi
What To Expect During Your Pellet Stove Inspection & Cleaning
Our 33-point pellet stove inspection and cleaning includes the following:
Glass cleaning
Cleaning of the entire combustion chamber (and parts)
Cleaning and lubrication of the combustion motor
Cleaning and lubrication of the convection motor
Auger assembly inspection
Seal inspection
Inspection of wiring, terminals, heat switches, and vacuum sensors
Exhaust pipe cleaning (Note: There is a separate charge to clean and inspect the chimney.)
Vacuuming and ash removal
Service Overview
We will then run the stove through a complete start-up cycle so that we can ensure that the system is safely and properly functioning.
We use HEPA filter vacuums, guarantee a no mess service, and will provide you with a written safety inspection upon service completion. This written report is designed to inform you of any concerns or recommendations for repairs.
All Magic Broom technicians are certified, bonded and insured, knowledgeable, uniformed, and expertly trained. All labor is covered by a 30 day warranty and all parts carry a 90 day manufacturer's warranty. With Magic Broom, you can be confident in the safety and efficiency of your pellet stove and enjoy the warmth it offers for years to come. Contact us today to schedule your annual maintenance!
Gas heating appliances are a very popular choice for many homeowners. Magic Broom can provide the latest information about these options as part of our complete chimney and fireplace services.