Magic Broom has fully CSIA Certified chimney technicians on staff and remains a family-owned and -operated full-service chimney and hearth care provider since 1978.  We started out as a small, husband-and-wife team in Waldorf, Maryland, and have grown into a multi-technician business with two locations (we're now in
Lexington Park
& Waldorf) serving Charles, Calvert, Saint Mary's, Prince George's, and lower Anne Arundel counties.
Our Early Days
Owner Dale Kelley decided to attend Black Magic Chimney Sweep School in Stowe, Vermont as a result of an advertisement he came across in Mother Earth News magazine. Finishing school, he became Maryland's first certified chimney sweep, and started sweeping chimneys on the weekend with his wife, Rona. They remained a team until they started a family at which point Rona had to give up sweeping.
Growing Pains
As Dale and Rona's family grew, so did their small business. Over time, Dale began hiring other sweeps to accommodate their growth. Today, Magic Broom is one of the most highly regarded chimney sweeping businesses in Southern Maryland and remains in the family as Magic Broom is now mostly managed by Dale and Rona's son, Josh.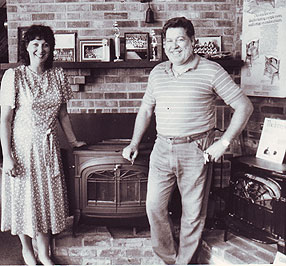 Rona and Dale Kelley from the early days.
Our Highly Knowledgeable and Skilled Staff Sets Us Apart!
At Magic Broom, we know that education only helps craft. That's why we are constantly attending specialized courses and seminars that keep us up to date on all of the latest techniques and safety requirements. Our staff consists of CSIA (Chimney Safety Institute of America), NFI (National Fireplace Institute), IRC (Institute for Research in Construction), and CDET (Certified Dryer Exhaust Technician) certified technicians, as well as members of the NCSG (National Chimney Sweep Guild). That means we have access to all of the latest information from all of the leaders in the industry.
With Magic Broom, you can be confident that the technicians in your home have a comprehensive understanding of chimney, hearth, and dryer vent systems, and will provide you with the highest level of care. Troubleshooting and sharing our wealth of knowledge with our customers is our passion! We also pride ourselves on our honesty and fairness, and promise to always be up front about what we are doing and why.
Whether you are in need of: a Chimney, Fireplace, or Stove Cleaning; a Comprehensive and Thorough Chimney Inspection; Chimney Repair or Relining; Masonry Repair or Rebuild; Waterproofing; or a New Appliance, our technicians can help! We have the equipment, knowledge, and dedication to provide you with the best possible service. We also have a 20,000 square foot showroom, with a large selection of:
Come by today or click here to start shopping now!
Whatever your chimney, fireplace or dryer vent needs, call Magic Broom today! We guarantee you'll be satisfied!
Scheduling an appointment is a breeze with Magic Broom, so let's get started!