Water penetration can drastically shorten the life of your chimney and fireplace, costing you hundreds or even thousands of dollars in repairs and rebuilds. That's why we believe in taking every possible precaution to protect your home from the infiltration of water. Thankfully, there are several ways to help ensure that your chimney and fireplace stay dry, including the addition of a cricket.
A cricket is a small, sloped part of the roof that prevents water from pounding the high part of the flashing around the chimney. Crickets, which are typically constructed of galvanized steel, stainless steel, or aluminum, are constructed to be slanted on both sides, with a ridge (much like a roof ridge) at the top. As water flows down the roof top, it meets with the cricket and runs down the slanted sides of it. In this way, the cricket acts as added water protection, and diverts water away from the horizontal part of your roof and down to the sides and off the roof. If your chimney is 30+ inches wide, a saddle or cricket flashing is required.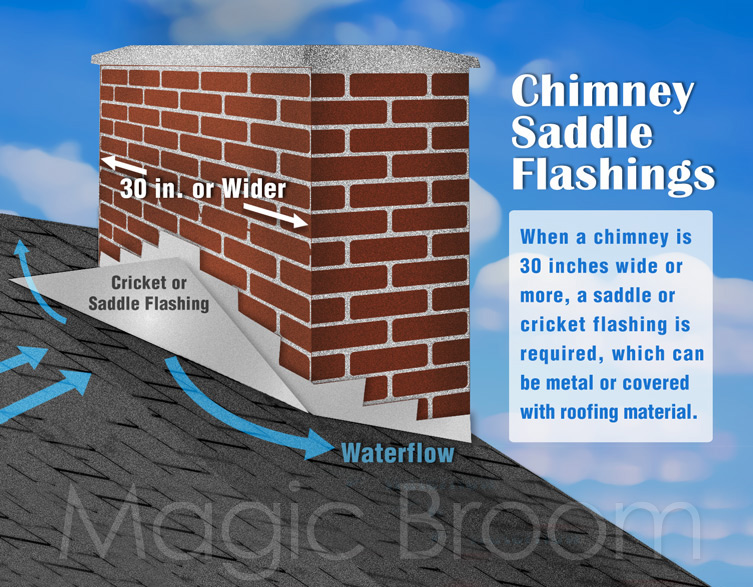 How Can A Little Cricket Keep My Chimney System Dry?
The combined efforts of the cricket with the other overlapping layers of flashing result in an added guard against water penetration at the chimney's most vulnerable point. If improperly installed or weather-worn and deteriorating, the flashing will not function properly and can actually lead to greater water accumulation. That's why professional installation is so important. All of our new crickets are backed by a 10 year warranty against leaks, so you won't have to worry.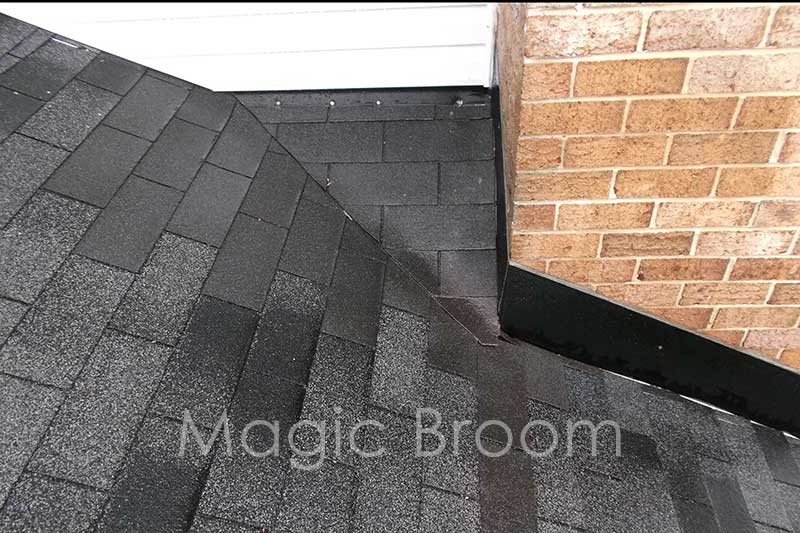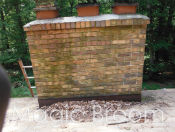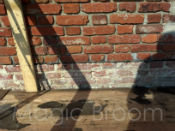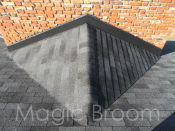 Why Magic Broom?
Many homeowners think that flashing is a roofer's job – but in reality – it isn't. The flashing is designed to protect the chimney and should be installed by someone with a comprehensive understanding of the chimney system. A professional chimney technician will know precisely at what angles the flashing must be installed, and will ensure an air-tight and water-tight fit with your roof and chimney. Although it is best to install a cricket when installing new shingling, it is not required. We can install a cricket at any time. But, should you re-shingle your roof down the line, be sure to have a Magic Broom professional come and ensure that the cricket and flashing are still in excellent condition and are fully functional and harmonious with the new shingle layout.
Taking precautionary measures is the best way to protect your chimney and fireplace from the damaging elements. To discuss more water-proofing options with a Magic Broom professional, or to schedule an appointment to have a cricket built, please give us a call. We look forward to helping you protect and preserve your home!