Why Do Flue Liner Estimates Vary?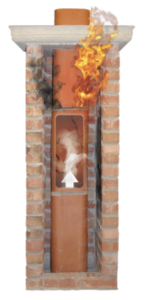 You may have received an estimate for a liner replacement from several different companies, noticed that the prices vary from company to company, and may not understand why or the importance of a proper liner. Flue lining plays a critical role in containing products of combustion, protecting the chimney walls,
and minimizing heat transfer into the home. Flue lining's purpose is to convey the by-products of combustion (smoke carbon monoxide, heat, & co2) out of your home safely and efficiently as possible.
There are many different forms and materials used for this purpose, the most popular being the terracotta clay tile. Cracks in the terracotta flue tile and missing mortar joints cause poor chimney performance, poor draft, and allow the dangerous combustion gases to escape into the home, damaging the chimney structure. Many chimneys today still utilize terracotta clay flue tiles.
Most likely you were told by your chimney professional that you need to repair your damaged flue lining. So why do the prices vary from company to company? There are several different factors that contribute to the cost difference. Factors can be the quality of the company that you are using, the material's choice, the shape of the liner, the diameter of the liner, whether or not the liner is insulated, and the scope of work.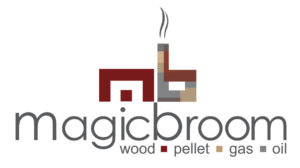 Magic Broom is the leading chimney and fireplace company in Southern Maryland.  We have been in business since 1978, with over 40 years of experience. Each technician goes through hours of training, and certification programs. Our company is fully insured and carries an MHIC license as required by law in the state of Maryland to perform any chimney work. Our customer service is superb and evidence of this can be found on our Google reviews. Our methods are tried and true and backed up with national codes and manufacturer instructions. While there are other companies that could provide the service cheaper, they lack professionalism. Most of these companies are

not brick and mortar companies and are run directly from their truck or home. Be sure to check for appropriate business and home improvement licenses – Maryland law requires a home improvement license for something even as small as installing a chimney cap. Any reputable business should easily be able to produce these documents for you.  
The #1 choice among chimney professionals is the use of a stainless steel chimney liner.  Stainless steel chimney liners come in a variety of shapes, materials, and grades of stainless.  Shape is very important and
it will affect the draft of your appliance. Liner shapes can be round, oval, rectangular, or square. Round is best for flow, followed by oval. Last, are square and rectangular which are the worst for flow. The stainless steel liner comes in a long tube that is about the length of your chimney. Round liners work best because smoke rises in a spiral motion, allowing it to flow the best and to optimize draft. We always try to use round or oval liners. We only shape liners as a last resort. Performance is a top priority for Magic Broom. Only a manufacturer is authorized to shape a liner at their plant.  This oftentimes will require additional work on our part.
Another difference that can contribute to varying costs in stainless steel liners is the grade of the material and the manufacturing methods. A higher grade alloy affects the corrosion resistance, which would affect the longevity of the liner. For pellet or wood stoves, 304-grade stainless steel is recommended. For oil-burning appliances, 316-grade is required. Choosing the wrong grade of liner will shorten the liner's lifespan and
cause the liner to prematurely fail.

There are 3 types of stainless steel chimney liners that are commonly used. There is lightweight flex, heavy wall flex, and hybrid liners. The lightweight flex liner is used the majority of the time. The heavy wall flex is the first of the generation and is no longer the preferred choice due to difficulties in working with it. The hybrid is a mixture of the two. Hybrid is stronger than the light flex and is used when we need a better draft or we are worried about how the homeowners use their appliance. You know who you are.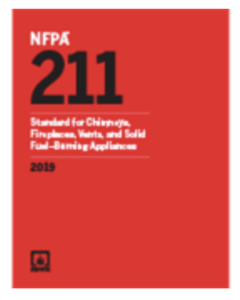 As a homeowner, you want to make sure that the chimney company you use to reline your chimney is using the correct diameter. Has it been measured to make sure it will work correctly? Diameter is important because the wrong diameter of a liner can affect the performance of your heating appliance. If the diameter is too small you will experience back puffing issues, lack of heating capacity, and creosote build-up. If the diameter is too big you will experience a slow draft and possibly carbon monoxide in the home. An open fireplace actually has its own mathematical formula that is required by the National Fire Protection Association: Standard for chimneys, fireplaces, vents, and solid fuel-burning appliances of NFPA 211. You can purchase a copy of this online. If you're not bad at math you can look this formula up to double-check your chimney company is using the correct diameter for your open fireplace.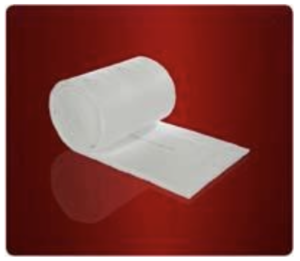 Insulation on a stainless steel liner is added to the liner to reduce acidic flue gas condensation, improve or stabilize draft, reduce soot, and reduce maintenance. Insulation also provides for warmer flue gases. Since the gases will be warmer there is a reduction in creosote build-up. Creosote and soot build-up can lead to reduced performance and worst-case scenario, a chimney fire, causing serious damage to your chimney and home. Wood and pellet applications must be installed with a minimum of ½ inch layer wrap insulated or 1 inch of poured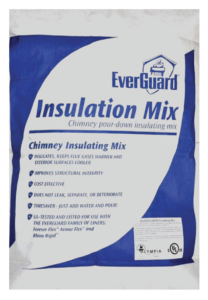 insulation blanket between the outside of the liner and the inside of the masonry shell to meet the manufacturer's instructions. Oil and gas heaters do not require insulation however it is recommended to insulate in order to stabilize draft and minimize condensation. ¼ layer insulation is an excellent way to meet this need. To ensure that we are providing our customers with the best solutions we always abide by the manufacturer's instructions when performing a liner replacement. Insulating the liner is an expensive part of the installation and is often left off of cheaper prices. This may require additional work on the company's part. As a consumer and a homeowner you should make sure that whichever company you use is following these guidelines. 
When installing a liner system that is insulated, the scope or degree of the work can change. Your home may currently have the terracotta clay tiles lining the chimney as many homes still do. If you decide to go with the best performing liner, the terracotta clay tiles may need to be removed from the chimney. Many times the chimney companies take the easy way out and try to shove the liner through the clay tiles. To cut costs they do not remove the clay tiles or insulate the liner. They may even use a shaped liner to make it easier on themselves. Magic Broom does not cut corners or look for an easier way to complete the job if it does not have an efficient outcome. Each time we perform a chimney relining with a stainless steel liner we are using an insulated liner and providing the proper scope of work by removing the existing clay tiles. This scope of work would contribute to additional costs and is a bit more labor-intensive but it is the correct way to install a chimney liner.
Magic Broom cares about your home and your needs. We want to provide you with the best products and the best solutions. We commit to solving your chimney problems the first time we visit. Although our lining service may be higher than our competition, we can assure you that we are abiding by the proper standards and codes as well as applying our 43 years of experience in the field. The cost difference is worth it and your chimney will thank you.
You've got questions, we've got the answers & services you're looking for. Don't forget to call Magic Broom Chimney for all your fireplace & chimney needs!