Chimney Services » Products » Chimney Caps & Dampers
Protect Your Chimney and Keep It Functioning Properly With a Professional Chimney Cap & Damper Installation
Much like chase covers, chimney caps are designed to keep your chimney free of moisture. They also serve the purpose of keeping out animals, insects, birds, leaves, and other debris. No matter how much you love animals and enjoy bird-watching, chances are you don't want them coming into your home and starting a family. But that's exactly what can happen to a cap-less chimney. Chimneys offer animals protection and privacy, and can keep their nests safe from damaging winds or predators. Unfortunately, they don't understand that you may not want to hear their babies chirping for food at all hours or clean up their waste, fur, and feathers. They don't understand that you may not be looking for the excitement of a wild animal loose in your home, or the smell of an animal trapped inside of your chimney.
Chimney Caps Provide Safety
But it's not just inconvenient to host a family in your chimney – it's a safety risk. In addition to the mess, noise, and odor associated with unwanted chimney guests, the nesting materials, waste, fur, and feathers can cause obstructions in the flue and lead to overheating and chimney fires. Not to mention that animals and their nesting materials can bring moisture into the flue, causing rusting, cracking, or crumbling of your flue liner. Any holes or gaps within the flue liner can allow hot ash, smoke, and gases to seep out and start a fire or threaten the health of your family. For the preservation of your chimney system and the safety of your family, it is strongly encouraged that you have a chimney cap installed immediately.
Here at Magic Broom, we proudly install Olympia Chimney chimney caps, which are available in tons of styles and shapes and designed to provide a perfect fit and superior protection. It really doesn't get any better than an Olympia chimney cap, and with their Forever Warranty, you won't have to worry about shopping for a new cap again anytime soon.
Perhaps you had a chimney cap installed but you haven't had it inspected for proper installation or condition. Many chimney caps are not properly sealed and can easily be damaged or come loose during a storm. If you aren't sure what your chimney cap's condition is, feel free to
contact us
. We'll be more than happy to take a look!
Dampers
A damper acts as an internal door that seals off air flow within the chimney. The damper is typically closed when the fireplace is not in use, so that no conditioned air is lost through the chimney system. Traditionally, dampers have been placed above the firebox – these dampers are referred to as throat dampers. One of the most common problems associated with throat dampers is creosote-related. Sometimes, creosote can build up around the damper, making it difficult to close or open entirely. This can result in energy inefficiency and smoke problems.
Many homeowners are abandoning throat dampers and opting for energy-top dampers, which are placed at the top of the flue. Like throat dampers, these can be opened and closed by a convenient lever, but energy-top dampers have the added bonus of acting as both damper and chimney cap. Because of their placement, they not only seal out air, they seal out birds, animals, leaves, debris, and water. If you are in need of a new damper and a new chimney cap, an energy-top damper may be the answer you've been waiting for. To find out more about the dampers we carry, or to schedule your damper installation today, click here.
Chimney Cap Selection
Whatever your home décor or aesthetic taste, Magic Broom has a chimney cap that is guaranteed to fit your vision. All of our caps are designed to be highly effective and visually appealing.
Want something more discreet? We have plenty of inconspicuous caps to choose from. Whatever you're looking for – we've got it! Check out our selection of chimney caps below.
We sell and install:
Stainless steel, copper, and galvanized single flue chimney caps. Features include: flue protection, 8″ screen height, adjustable fit, and 3/4″ mesh.

Stainless steel & copper top mount multi-flue caps. Features include: removable lid, hinge or rigid flange, adjustable mounting flanges, self-locking serrated flange nuts, stainless steel tapcons, and 3/4″ mesh.

Stainless steel & copper outside mount multi-flue caps. Features include: removable lid, multi-length horizontal and vertical skirt options, stainless steel tapcons, drip edge, and 3/4″ mesh.

Big Dripper chimney caps, which are like a crown and cap in one and protect the flue and the crown. The base of the Big Dripper is much like a crown base, so it extends beyond the outside of the chimney and includes a drip edge. Available in stainless steel or copper and with a corbeled or sloped base.

Custom stainless steel & copper pot toppers, which fit inside of the chimney. Options include clay round, copper octagon, clay octagon, and stainless round.

Custom chimney shrouds, which can be top mounted, corner outside mounted, or full outside mounted. Choose from mailbox style, open top style, and rooftop style.

Specialty chimney caps, like wind directional caps (prevent downdrafts), Weathershield caps (for air insulated pipes), and Vacu-Stack caps (for wind-related problems, like downdrafts and backpuffing).
All of our caps can be left as they are or powder coated to match your color preferences. To schedule your cap installation today, click here.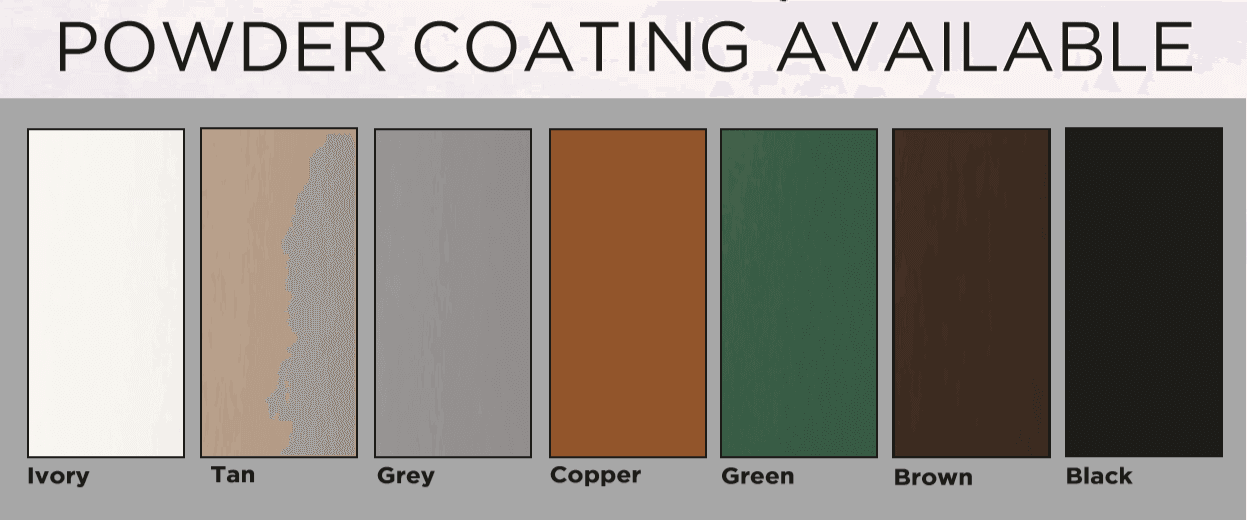 Patuxent Chimney Cover Series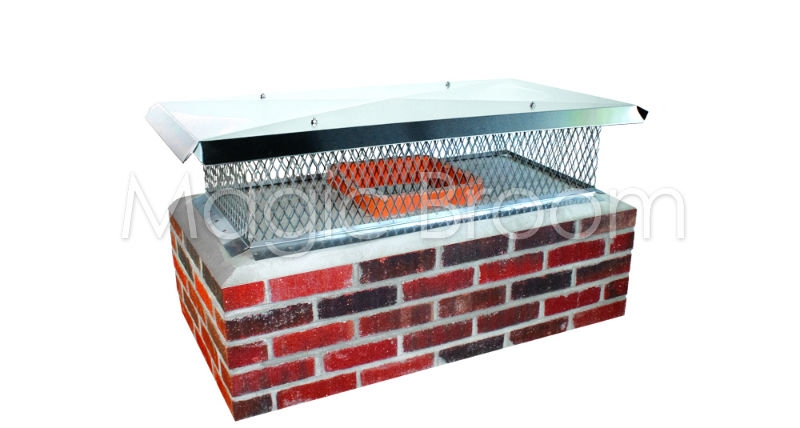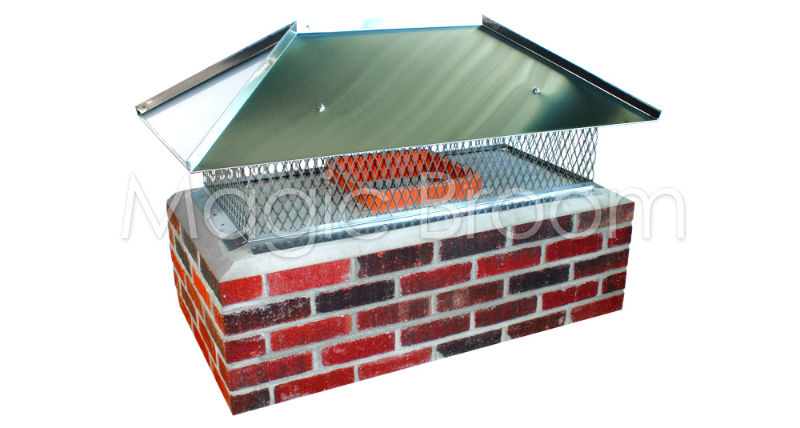 #5 Hip and Ridge Stainless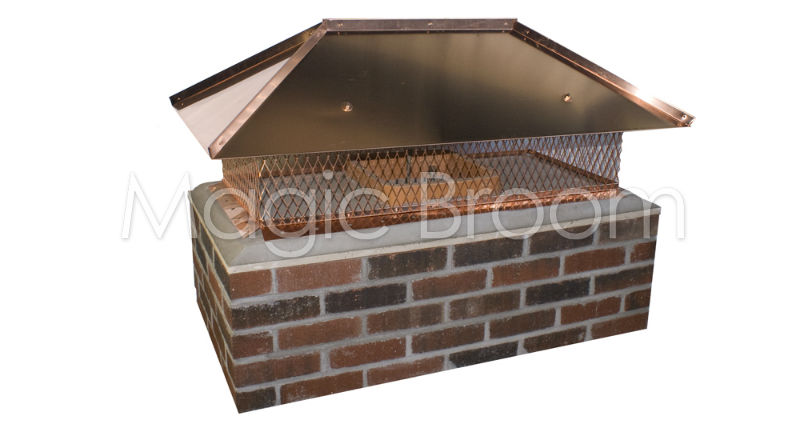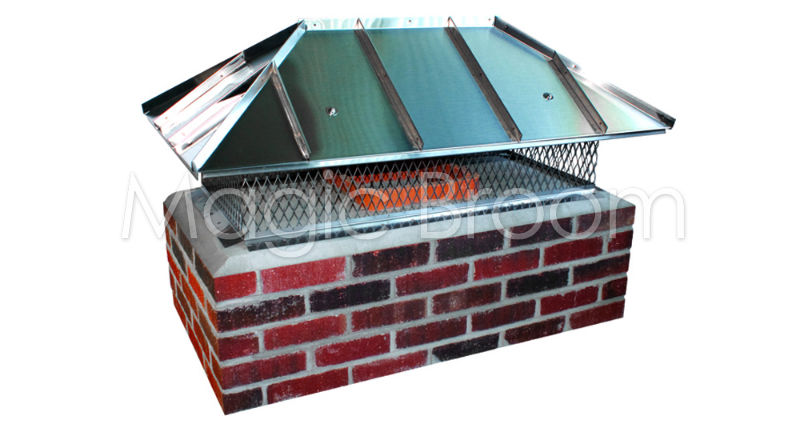 #7 Hip and Ridge with Seams Stainless
#8 Hip and Ridge with Seams Copper
Potomac Chimney Cover Series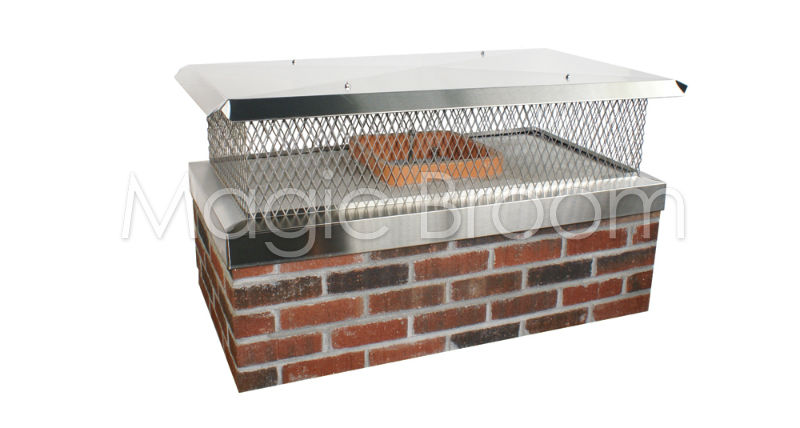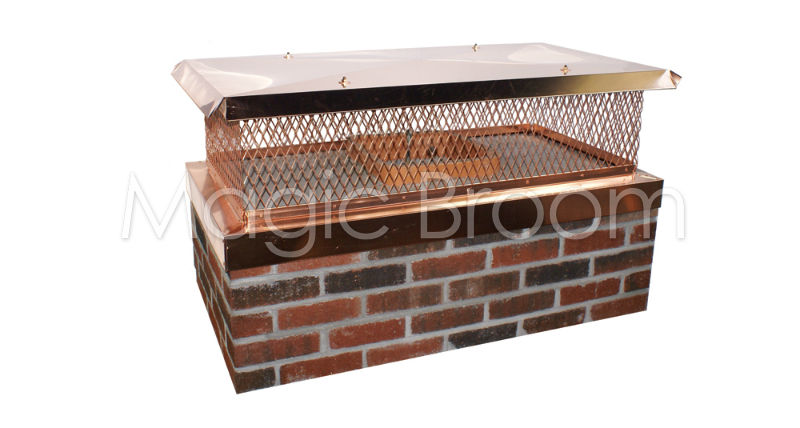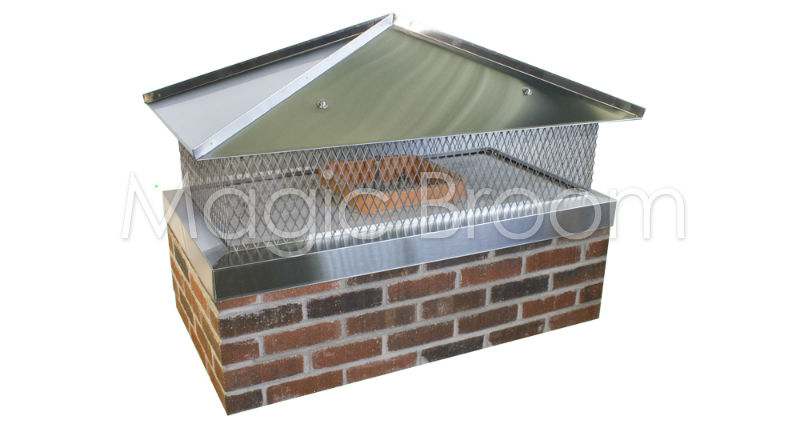 #13 Hip and Ridge Stainless
#15 Hip and Ridge with Seams Stainless
#16 Hip and Ridge with Seams Copper
#17 Stainless Big Dripper flat lid with corbeled base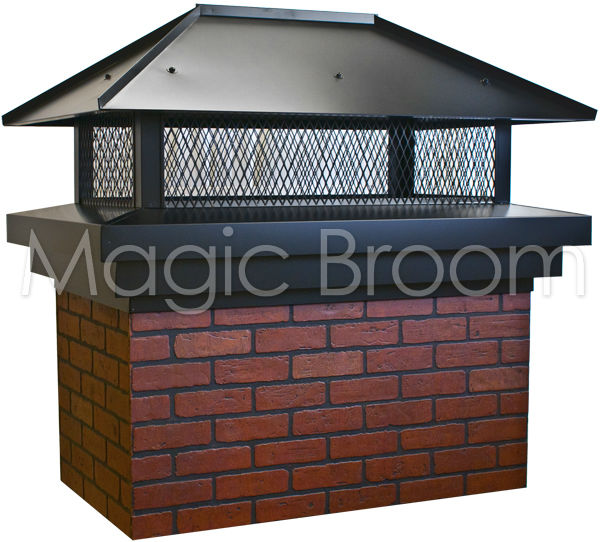 #18 Big Dripper with corbeled base, hip and ridge top, powder coated black
#19 Copper Big Dripper Hip Lid, with sloped
base
#20 Big Dripper with flat lid and sloped base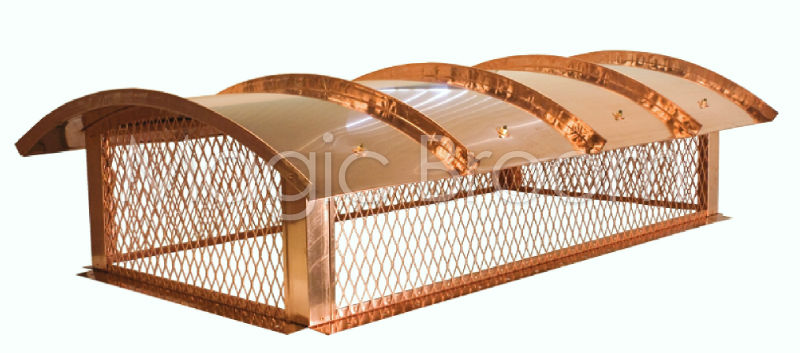 #21 Top Mount Barrel Cap, only available in copper