Chimney Services » Products » Chase Covers
Custom Chase Covers
At Magic Broom, we have seen the devastating effect that water can have on fireplaces and chimney systems. We also understand the important role that each individual part of the system plays in keeping the entire system functioning properly. That's why we stress the importance of annual inspections and sweeping to keep ahead of any defects or leaks. At Magic Broom, we specialize in leak detection and waterproofing and can attest to the difference it makes in the preservation of the chimney and fireplace.
One of the best ways to ensure that your chimney stays dry is to have a custom chase cover installed. A chase cover is a metal covering for your chimney top that is designed to keep rain and snow from entering the chimney. These covers are typically constructed from stainless steel, galvanized steel, copper, or aluminum, and can last anywhere from 7 years to a lifetime.
This difference in chase cover lifespan is largely due to material. If you have a galvanized steel or aluminum chase cover, you will typically see it rust through within 7 years of its installation. Rain can carry rust from a rusted, galvanized steel or aluminum chase cover down the sides of the chimney, leaving an awful rust stain on the siding. Additionally, galvanized steel chase covers can contribute to mold growth, wet sheet rock, and a rotting firebox. Unfortunately, unless you are faithfully scheduling annual inspections or you yourself are spending a good deal of time on your roof, you may not even realize your chase cover has rusted through until you've got a water, mold, or rust problem.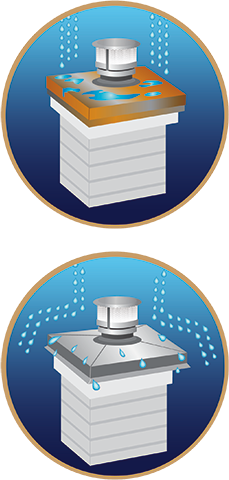 New Chase Cover:
Made from stainless steel for maximum rust protection.
Made with a built-in slope to shed water off the structure.
Custom fit to offer the best protection from the elements.
Superior strength with welded corners and cross breaks.
No screws or nails needed for installation. (possible future leak points)
Also available in copper or one of seven different powder coat choices.
Maximum protection from water entry
Lifetime manufactures warranty
does not include replacement of the chimney cap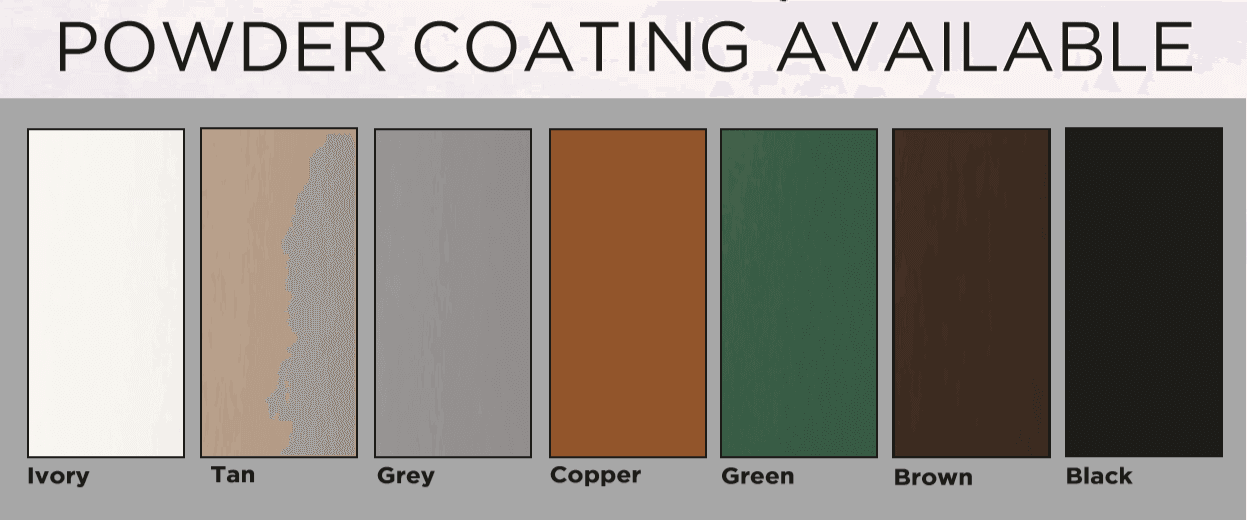 Check Out the Before & Afters of Our Work!
For lifelong protection from water and rust damage, Magic Broom installs stainless steel chase covers (Big Dripper) that are custom made to fit with your chimney. Our chase covers not only last longer, they work better! Each chase cover is designed with cross breaks which help to prevent sagging and provides superior strength. This important feature helps guarantee that no water is able to accumulate on the surface of the chase cover and pose a threat to your chimney system. It also ensures that heavy snow, ice, and strong storms don't damage the chase cover.
In addition to cross breaks, our chase covers have drip edges that direct water away from the sides of your chimney. The area where your chimney meets with the roof is particularly susceptible to water damage. These drip edges help keep the masonry and the flashing around it from being bombarded by water. While some of our chase covers feature drip edges, if this is a particularly concerning issue for you, you may want to opt for the Big Dripper, which extends even further beyond the sides of the chimney.
Big Dripper Chase Cover:
Available in 100% stainless steel or copper.
All one-piece construction.
Features advanced drip edge technology, full-length cross breaks, and spot welded corners.
Options include extra collar height and extra skirt length.
Comes with a Forever Warranty.
For more information on the custom chase covers we offer, or to schedule your custom chase cover installation today, contact us at 301-843-1491.
Chimney caps and dampers are simple chimney components that will make a huge difference in the safety and health of your fireplace system. Let Magic Broom helps with these basic chimney and masonry repairs.