If you've been thinking about purchasing a new fireplace, stove, or insert, there are many things to consider. Some of the key things to consider are design/style, size, and fuel type. First, you'll need to decide which type of appliance you would like in your home. Each has pros and cons, and our experts at Magic Broom Chimney Sweeps are more than happy to help you find the best one. Call on our experts today to learn more, and we'll be happy find the best option for your home for the holiday season approaching.
Fireplaces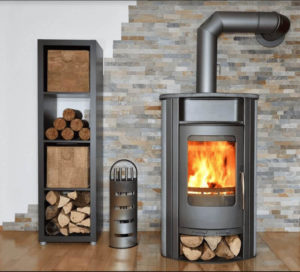 Fireplaces offer a aesthetic that many homeowners desire. If you're looking for a truly authentic addition to your home, then a fireplace is the right choice for you! They come in gas or wood-burning options, so depending on your schedule and preference, we have an option to fit your home and needs.
Inserts
Inserts are installed inside of an existing fireplace, and they are typically bought when homeowners are looking to change fuel types or add more efficiency. Families love the extra heat fireplace inserts are known for, and they offer a relatively easy and affordable way to change up the look and feel of your living space.
Stoves
If you don't have a chimney, and you are looking to add a new heat source to a specific area of your home, then a stove is the way to go. They don't have as many restrictions when it comes to placement options, and they don't require the presence of a chimney, as they are free-standing. This makes them a perfect and convenient choice for most people!
Which Fuel Type Is Right For You?
Many people love the traditional look and feel of a wood-burning option, as there's nothing like the smells and sounds of a crackling wood-burning flame on a cold winter evening. However, you should also remember all the effort associated with a wood-burning appliance. It requires hauling wood, building fires, and maintaining a steady flame throughout the evening. There is also clean up of the ashes and tidying up, when you are finish with the fire.
Gas and pellet-fueled appliances are a bit more low-maintenance. Gas options are best for those with a busy schedule. You simply flip a switch or push a button, and then you have a readily hot fire. There is no clean up necessary, and you don't need to worry about waiting for flames to die either. Pellets offer more of a middle ground. They still give the ambiance of burning wood, but they don't need to be constantly refueled. You simply have to fill the hopper, and you are good to go all day long.
No matter what you appliance you choose, Magic Broom can help you through the whole process! You can be certain that your appliance is correctly installed and working efficiently, when you hire us. Call us today at 301-843-1491 to get started!