The holiday season carries with it some of the most memorable times of the year: food, fun, and family and friends gathered together in front of the fireplace. Because fireplaces play such an important role in many family's holiday traditions, there are several important safety precautions to take into consideration during this time of the year.
Have Your Chimney Swept Before the Holidays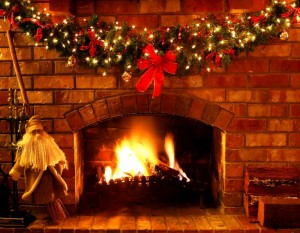 The cold months of winter are the heaviest use months for most fireplaces and stoves. Because of this, it is important to have your chimney swept and inspected beforehand. According to National Fire Protection Association Standard 211 says, "Chimneys, fireplaces, and vents shall be inspected at least once a year for soundness, freedom from deposits, and correct clearances. Cleaning, maintenance, and repairs shall be done if necessary."
Annual chimney sweeps reduce the risk of chimney fire by removing any harmful buildup of creosote, a highly flammable byproduct of fuel-burning fires. Likewise, having your fireplace and chimney inspected can uncover any safety concerns before they affect the health of your family.
Keep Holiday Décor Away From Fire
The holidays are a festive season of celebration with plenty of decorations both inside and out. While these ribbons, garlands, and greens may make your house feel like a home, there are safety concerns for holiday décor that should be taken into account.
Christmas trees: Both real and artificial trees should be at least three feet away from any fireplaces, stoves, or other heaters. Likewise, keep real trees well watered and take them down as soon as possible, drier trees have a much higher chance of accidentally catching fire.
Mantle décor: While stockings hanging over a blazing fire might be an idyllic picture, any hanging décor should be moved or taken down when the fireplace is in use. Greenery and ribbon should not drape over the edge of the mantle to prevent being ignited by stray sparks.
Don't Burn Wrapping Paper
While burning wrapping paper, boxes, and other packing materials may seem like a quick and easy way to dispose of it, these materials are better off in the recycling bin. Because paper products are highly combustible, they ignite and burn quickly. This quickly creates a large fire which may cause flames to spill out of the firebox or up the chimney.
Branches from real trees, garlands, wreaths, or other greenery should also not be burned. This wood has not been seasoned which creates large amounts of smoke and creosote. Likewise, many of these products are treated with flame retardant chemicals which make it unsuitable for being burned.
Use Fire Prevention Common Sense
The one of the best – and easiest – ways to prevent accidental fire is simply by using fire prevention common sense. First, test fire and carbon monoxide detectors to ensure they have working batteries and can be heard throughout the house. Next, keep any decorations, trees, or presents at least three feet away from the fireplace. Keep fireplace doors closed or use a fireplace screen to prevent small children from getting too close to the fire. Lastly, continue using well-seasoned firewood to help your fireplace burn at its most efficient.
From all of us here at Magic Broom, wishing you and your families safe and happy holidays!