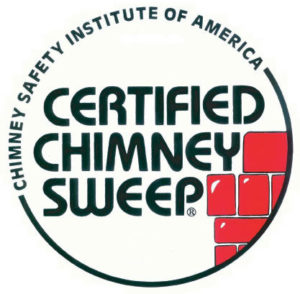 While maintaining your chimney is important, finding a quality, knowledgeable, and trustworthy chimney sweep is often more difficult than a simple Google search. Before hiring a chimney sweep, homeowners should check to see if they are CSIA certified; this certification represents the "gold standard" in the fireplace industry, and CSIA certified sweeps are guaranteed to be true fireplace professionals.
What is a CSIA certification?
In the past, a lack of regulation in the fireplace industry allowed anyone with a truck and a few brushes to call themselves a chimney sweep. However, the Chimney Safety Institute of America, or CSIA, created their certification in order to have a standard of professional accreditation for chimney sweeps.
To earn their CSIA certification, chimney sweeps must undergo an education and testing process in areas such as:
Current safety practices
Fireplace and chimney building dynamics
Local and national building and fire codes
Installation and maintenance of gas appliances
Current EPA standards for fuel burning appliances
Because CSIA certifications are not for life, chimney sweeps must retest every three years in order to keep their certifications. This helps to ensure that certified sweeps are always up to date on the latest safety and technology standards in the industry.
The importance of being certified
A chimney sweep does much more than simply sweep soot and ash out of your chimney. Because of this, it is important to work with a true professional who understands fireplace safety and dynamics. In addition to be highly trained professionals, CSIA certified chimney sweeps also adhere to a strict code of ethics; this helps homeowners feel more secure that they are receiving fair and honest service at competitive prices.
How to hire a CSIA certified chimney sweep
The CSIA makes it easy for homeowners looking to hire a CSIA certified chimney sweep. Their database allows you to search for a certified chimney sweep in your area, even going as far as to refine the search by skills such as masonry repair, gas fireplace installation, or chimney relining.
Before hiring a chimney sweep to work on your fireplace system, the CSIA recommends asking them a few basic questions. Doing so ensures you are working with a professional and will receive high quality customer service and chimney care.
How long has your company been in business in the area?
Can you provide references from current customers?
Do the chimney sweeps or the company carry liability insurance in the event of damages?
Will the chimney sweep who works at my site be CSIA certified?
Hiring the right chimney sweep can help extend the life of your fireplace system and make it safer to use. If you live in the Waldorf, Maryland area, trust the certified chimney sweeps at Magic Broom to care for your fireplace system; contact us today to schedule your next chimney sweep appointment.