Is your masonry chimney crumbling, cracking, or showing signs of deterioration? Having a strong structure in place before you light a fire this upcoming fall is a must, so the time to address those cracks and deterioration is now. If you are ready to work with a reliable team of professionals, then give Magic Broom Chimney Sweeps a call today!
Why Is This So Important?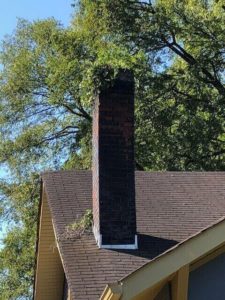 Why is it so important to fix your structure before the burning season? When you light fires inside a damaged fireplace and chimney, this could put your home and family at risk. For instance, gaps and openings throughout your brickwork and masonry are easy pathways for dangerous gases, like carbon monoxide, to escape into your living space.
For those unfamiliar with carbon monoxide, it is a poisonous gas that has no odor or color, which makes it impossible to detect. Unfortunately, prolonged exposure can lead to illness or even death. You should do everything you can to prevent exposure to this dangerous gas by investing in regular chimney maintenance. Another good way to detect this dangerous gas is by installing carbon monoxide detectors throughout your home.
Another threat of crumbling and deteriorating mortar is the potential for house fires. The flames from your fire can easily work their way through your structure when your structure is breaking down. These flames and the extreme heat of your fires can trigger even more decay and creosote accumulation inside the system. All in all, it won't be long until your home's woodwork catches on fire and spreads throughout. From tuckpointing to crown repair to rebuilds and more, our team has you covered every step of the way!
Call Now, While The Weather Is Nice
If you are thinking of putting off repairs until fall and winter, we encourage you to reconsider. Right now is actually an ideal time to start these repairs. First of all, our team is not as busy, so booking a time slot that works well with your schedule is not a problem. You also won't be left waiting on availability this fall, which might force you to delay the start of your burning season.
Another benefit of investing in repairs now is because the materials we use for masonry repairs can cure in an appropriate temperature range. This guarantees you get stronger, longer-lasting results. It also gives our team plenty of time to address the necessary repairs before the burning season.
We Are Ready To Help
Our team of CSIA certified experts is eager and ready to help homeowners all throughout the area. Stop putting off necessary repairs and reach out to our qualified technicians today!