Pellet stoves are popular heating appliances because of their ease of use, low cost to operate, efficiency, and minimal maintenance. However, in order to keep your pellet stove running year after year it needs to be serviced and cleaned each year. Annual pellet stove maintenance is an important part of keeping your pellet stove running safely and efficiently.
Why choose a pellet stove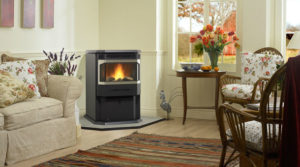 Heating appliances don't just have to burn wood or gas; pellets are an increasingly popular alternative because of their low cost and ease of use. Pellet stoves are extremely efficient, more completely burning the pellets while producing very small amounts of smoke and particulate emissions.
In addition, pellets are often considered an environmentally friendly fuel source because they are made using sawdust, wood fragments, and other leftover wood parts that would be otherwise discarded. Because pellets are a wood product, pellet stoves produce the smell of a wood burning fire – while burning up to five times more efficiently.
Pellet stove maintenance
Having your pellet stove professionally serviced and cleaned each year is an important part of helping your heating appliance last for years to come. Because pellet stoves are often used as a primary heat source in many homes, this maintenance is even more important.
During professional chimney services, all components of the pellet stove will be inspected for signs of damage or deterioration. This includes interior stove components as well as exterior venting including the chimney and flue. Likewise, a thorough professional cleaning helps prevent a buildup of sawdust, ash, soot, or creosote in the pellet stove.
Professional services can also be used to identify and address performance issues with your pellet stove. There are several common problems pellet stoves can experience, including:
 Performance and feeding issues
 Glass stains
 Stove odor
 Loss of efficiency
 Burn pot overflow
While these performance issues may be common, these are signs that it is time to have your pellet stove professionally serviced.
At home maintenance for your pellet stove
Professional pellet stove maintenance is only one part of keeping your heating appliance running well. In addition to annual cleaning and inspections, there are several at home maintenance items that homeowners can do to keep their pellet stoves burning safely and efficiently.
 Empty the ash drawer before use and periodically while burning
Look at the air inlets in the burn pot to ensure they remain open and unblocked
 Empty and clean the burn pot as needed
Clean exterior glass panels when the stove is not in use and is cool to the touch
 Check the hopper for accumulating sawdust
 Clean and empty the auger tubes and hopper periodically to prevent blockages
Having your pellet stove cleaned and serviced now will make sure it is ready to go when fall and winter arrive. To schedule your next pellet stove maintenance appointment, contact Magic Broom today!