As a homeowner, you want to protect your investment and keep your chimney clean, dry, and free of obstructions, right? Well, a quality, well-fitted chimney cap is key! Chimney caps come in a variety of sizes, styles, and materials, and can offer your chimney top-notch protection and a touch of finesse. Caps are designed to be attached to the top of the chimney flue, where they work to prevent dangerous and damaging intruders from entering, including: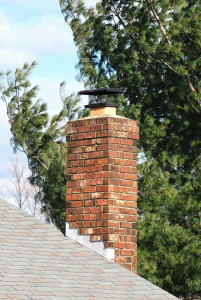 Birds & Animals
They may be a delight to watch as they dart from tree to tree, but if animals and birds are allowed access to your chimney, they can do a lot of damage. Oftentimes, they choose to nest in capless chimneys, bringing twigs, leaves, and other nesting materials in with them. Not only can these materials block the flue (which can lead to smoke problems, carbon monoxide problems, and appliance inefficiency), but they are also extremely flammable and can lead to a chimney fire.
Animals and birds may also find themselves trapped in the chimney, falling down into the fireplace or dying inside of the flue. The best way to prevent animals from entering, causing problems, and exposing your chimney system to feces, fur, feathers, bugs, and nesting materials, is to keep a properly-sized and installed cap on your chimney at all times.
Foliage & Twigs
Animals and birds aren't the only ones that bring flammable and obstructive foliage and twigs into capless chimneys – strong winds and storms can as well! If the chimney system is to continue operating as efficiently and as safely as possible, it needs to be free of obstructions. A quality chimney cap can guard your flue and keep wind-blown foliage and twigs from making their way into your chimney system.
Moisture
Of course, one of the biggest reasons to invest in a chimney cap is to keep moisture out. If your chimney system is not properly protected, rain, sleet, and snow can damage your chimney from top to bottom. Moisture eats away at both clay tile and metal flue liners, rusts and erodes dampers and fireboxes, and can significantly shorten the service life of your chimney and appliance.
Invest In A Quality Chimney Cap From Magic Broom
Here at Magic Broom, we carry a wide assortment of some of the most stylish and effective outside mount and top mount chimney caps on the market. Whether you have a single or multi-flue chimney, prefer beautiful copper or stainless steel, we're confident you'll find the perfect cap to protect your chimney right here at Magic Broom. Our expert team will provide a proper fitting and make sure your chimney stays beautiful and protected, season after season. Contact us today to have a chimney cap installed on your chimney!
Want more bang for your buck? We're also proud to offer the Big Dripper Series, which protects both the chimney crown and flue against the elements!