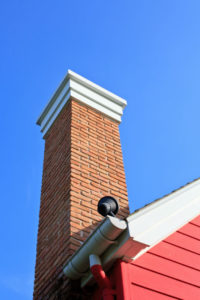 Fall is finally here! Leaves are on the ground, the weather is getting crisp, and people everywhere are gearing up for the upcoming holidays. With all the hustle and bustle going on, it's easy to forget to schedule your annual fireplace cleaning and inspection. If you have yet to get this done, call now to make an appointment to ensure your chimney is safe for use.
Avoiding Chimney Fires
Chimney cleanings play a major role in ensuring your home stays safer throughout the burning season. Creosote is highly flammable meaning the more build-up you have, the more at risk you are for chimney fires. This is why hiring a professional to remove it is the best option for any homeowner. They know where it is typically located and how to remove it as efficiently as possible, using the proper tools and chemicals.
Another reason fires may occur is due to an accumulation of bird's nests, twigs, leaves, and other debris, carried in by various critters. If you rarely used your fireplace throughout the warmer months, then it is likely that these things have built up and caused various blockages throughout your chimney. These are all materials that easily catch fire, so you'll definitely want them removed before lighting anything.
Maintaining Good Air Flow
Creosote and all of the other types of debris mentioned above are known for triggering chimney fires, but they may cause other issues, as well. The more these substances gather together in your fireplace, the more blockages you will face. A blocked up chimney means dealing with smoking issues, improper ventilation, and puts you at risk for harmful toxins backing up into your home.
Furniture is easily ruined when smoke gets sucked into it and the health of loved ones is put at risk when they are exposed to these various gases. These, plus other countless issues, can all be avoided by picking up the phone today and scheduling your annual inspection and cleaning.
Addressing Repairs
Cracks, holes, leaks, and other small repairs should always be fixed before you start lighting fires. All of these things can lead to countless issues when trying to run your fireplace and nothing will not run as efficiently as it could.
Unfortunately, many of these repairs are not possible to do once temperatures drop below a certain point. The materials need to cure properly and can only do so in certain conditions. Don't leave your home without a fireplace this holiday season and scheduling a cleaning and inspection with the staff at Magic Broom today.
Call Now!
If you are ready to get your appointment scheduled, then give us a call right now so we can get you in before Winter strikes! This is a busy time of year and we want to set you up right while the weather is still great. We look forward to making your home the best it can be. Thanks for choosing us!