What's your favorite part about fall? Is it the changing colors? The pumpkin-flavored treats? The cool weather? Or do you simply love cozying up inside on chilly evenings? If this is the case for you, then it's time to get your fireplace maintenance scheduled, and the team here at Magic Broom Chimney Sweeps has everything necessary to get the job done right. Call us now to book your inspection.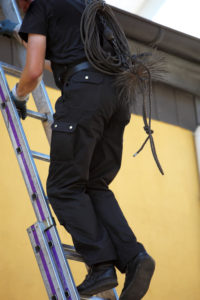 The CSIA Recommends Annual Inspections
If you remember booking an inspection last burning season and everything checked out fine, then you may be wondering if scheduling another is actually necessary. The simple answer is yes! The CSIA, the NFPA, and many other reputable organizations in this industry all urge homeowners to invest in yearly inspections. Most chimney companies encourage this practice, as well.
Why is this? Because many things can happen to your chimney over the course of a year! Birds may have moved in during the summer months (bringing leaves, twigs, and nesting materials with them), creosote will have likely built up, water damage and leaks could have occurred, and you may need some parts replaced, like your damper or chimney cap.
All in all, damages, blockages, and the like all put your system at risk, and they could cause some dangerous events to occur, such as gas leaks, chimney fires, and more. An inspection will reveal whether or not repairs or a sweeping is necessary. Trust us – paying for affordable maintenance now is a lot better than shelling out hundreds (sometimes thousands) for renovation work down the line!
The Importance Of Cleanings
If we see that there are dangerous levels of creosote in your flue, we will urge you to schedule a cleaning with our team. We can remove all kinds of creosote types from the light and flaky kinds to the hard and glossy glazed creosote, and we never cut corners or take shortcuts. We know how flammable creosote is and how quickly it can spread flames throughout your chimney, which is why we take pride in providing thorough, mess-free, high-quality services every time you count on us.
Trust In Josh Kelley & His Certified Crew Today
Why can our crew be trusted with all of your chimney-related needs? Because we are dedicated to staying educated, up-to-date, and trained on it all! We have decades of experience under our belts, and we maintain certifications with the CSIA, the NFI, and the IRC. We are also members of the NCSG, and we have CSIA Certified Dryer Exhaust Technicians on our team, too.
Combine all that with our passion for bringing folks throughout Lexington Park and its surrounding areas the most reliable care around, and you've got yourself a crew you can trust in for it all. Our busy season is upon us, so call now, so you aren't stuck without a working fireplace this holiday season. Our staff is standing by!