Draft and airflow play an integral role in your fireplace's ability to function efficiently and safely. Because of this, you need strong, clear pathways for fumes and smoke to escape outdoors. Well, that's where your liner comes in. A well-fitted chimney liner ensures the gases from your fireplace travel up and out of the flue, giving you better and safer fireplace experiences.
Along with this, your chimney liner protects your brickwork from breaking down and crumbling, which ensures no fumes or flames can enter your home or reach your woodwork. If these areas are left vulnerable, it could only be a matter of hours before parts of your home ignite into a firey disaster. One thing is for certain: If you want to run your fireplace efficiently and safely, then investing in a high-quality liner is a must. That's why we recommend our stainless steel options. Why are these the best? Learn more below.
They're Durable & Increase Efficiency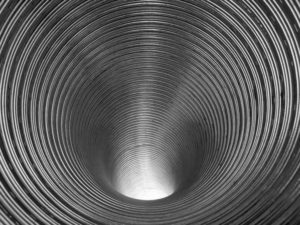 There is no doubt that your chimney liner needs to be able to withstand a lot, which is why constructing it from a strong material is essential. With stainless steel liners, you can stress less because they offer long-lasting results. If you would like something reliable, then this is the right choice for you.
Stainless steel liners are also proven to increase the efficiency of your fireplace. Homeowners with this liner tend to notice less buildup, better draft, less moisture, and enhanced performance overall. When you are cozy up in front of your fireplace this winter, you'll be happy you made the switch!
They're Compatible With Many Fuel Types
Are you considering a change in fuel type down the line? Many times, the liner you invest in will need to change depending on whether you go with gas, pellet, wood, or something else. If you don't want to stress about having to reline your system after switching your fireplace setup, then invest in stainless from the start. It is compatible with gas, wood, and pellet, so you will be good to go, no matter what you decide later down the road.
Why Trust Magic Broom For The Job?
The Magic Broom team has been serving Southern Maryland for over 40 years now, and our customer reviews speak for themselves. Our educated team is known for their professionalism and reliability, and you can bet that when we're on the job, you'll be taken care of. Ready to get started? Call today and schedule an appointment with us, so you are good to go when the holidays come back around. We're excited to work with you!